It was not until 1990s that the evolution in the design of chairs took place. This change was introduced in 1954 by the Herman Miller Aeron chair. This story was covered by New York based columnist and writer Malcolm Gladwell in his book Blink.
The design of the chair was marvelous. The Herman Miller chair was different from the traditional leather chairs that the CEOs had preferred for many years. These chairs were well cushioned and high backed conveying status and power at workplace. Herman Millar's revolutionary design altered the status quo. It was all mechanics and mesh design that followed ergonomics. It changed the way we viewed our chairs. A desk chair was not just a piece of furniture you could sit on. A chair helped in relieving pain, strengthening core and correcting bad posture.
If you want more than just a chair, then these unique and creative designs will help you in sitting better and healthier.
Herman Miller Aeron
This chair was a pioneer in innovation. Herman Miller's Aeron chair had a mesh seat and back that helped in keeping you cool and sweat free. The chair also featured many adjustments so that you could customize it according to your needs. The concept was new, original and never tried before.
 Salli Saddle Chair
Many traditional desk chairs cause you to slouch backward or forward, thus causing strain on the back. As the chair has no back, you can tilt forward the seat. Due to this, you are forced to sit straight up and keep your posture right. Its saddle-like design lets you sit with your legs like you are riding a horse. This posture helps in improving blood circulation in the legs.
Nethrone Classic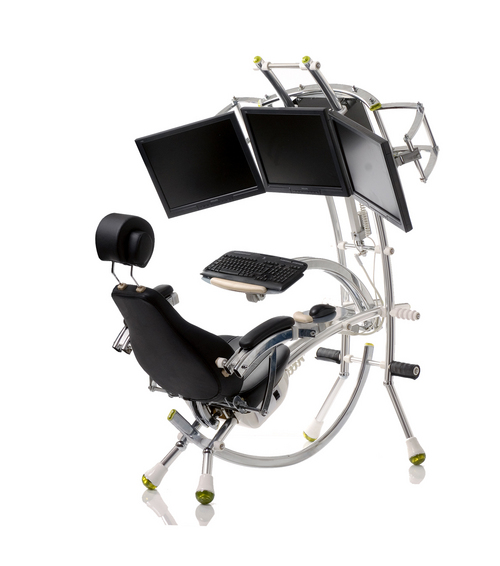 The Nethrone chair is like a cockpit for computer geeks. It has a keyboard and monitor mount. The entire unit can rotate backwards. This allows you to work in a position of comfort. The chair also includes a massage function. However it is not recommended to use it until your work is finished.
 Trey Chair
The Trey Chair is a unique and great concept that allows the chair to be used as a normal chair but it actually can also be converted into a floor-bound rocking chair. The chair's base can actually be transformed into a small laptop table. It's perfect for those who sometimes like to squat while working.
Chakra Chair
The Chakra Chair features seven separate pads that claim to effect body's pressure points. Although how effective it is in aligning your chakras is a question best answered by holy men but due to its attention seeking design it will surely the topic of the conversation.
Evolution Chair

The modern chairs have a lot of engineering and technology involved. But the most basic of these chairs is the Evolution Chair. It's just an inflated ball made of rubber and mounted on a wheeled stand. According to the makers of the chair, it strengthens your core. The wobbly ball gives you little support so the task of staying straight is up to you. This means your muscles get the required exercise while you sit the whole day.
Zuo Unico
This chair is something pulled straight out of the Star Trek. The chair has five horizontal cushions that improve your lumbar support.
Swopper Stool
The Swopper stool is loaded with spring. The company says that it acts as an extension for your spine. This design is for relieving back pain. This springy stool lets you bounce up and down and tilt around 360 degrees. This allows a wide range of motion as you shift your body weight around and encourages good posture.
Varier Gravity Balans
The multifunctional Varier Gravity Balans plays with gravity. It allows you to use it as a desk chair. You can keep it slightly reclined or fully recumbent. In whichever position you are in, its side mounts let you rest your legs and give support to your lower body in whichever position you are.
Artifort Globus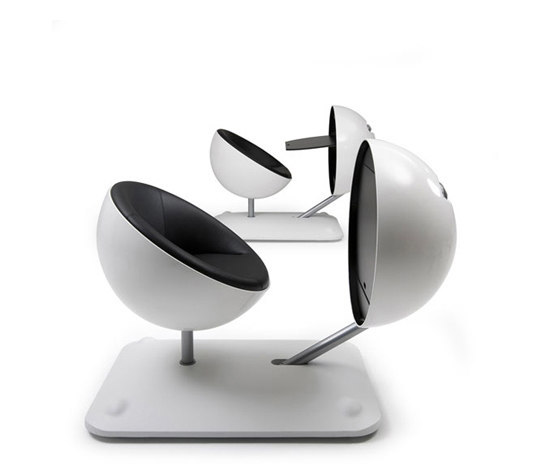 Artifort's Globus is an ergonomic workstation with sphere shape. It has a cool sphere seat and a sphere shaped desk which can be opened or closed. The creative design of this workstation looks futuristic. It saves space and is very comfortable.
Sources from internet.